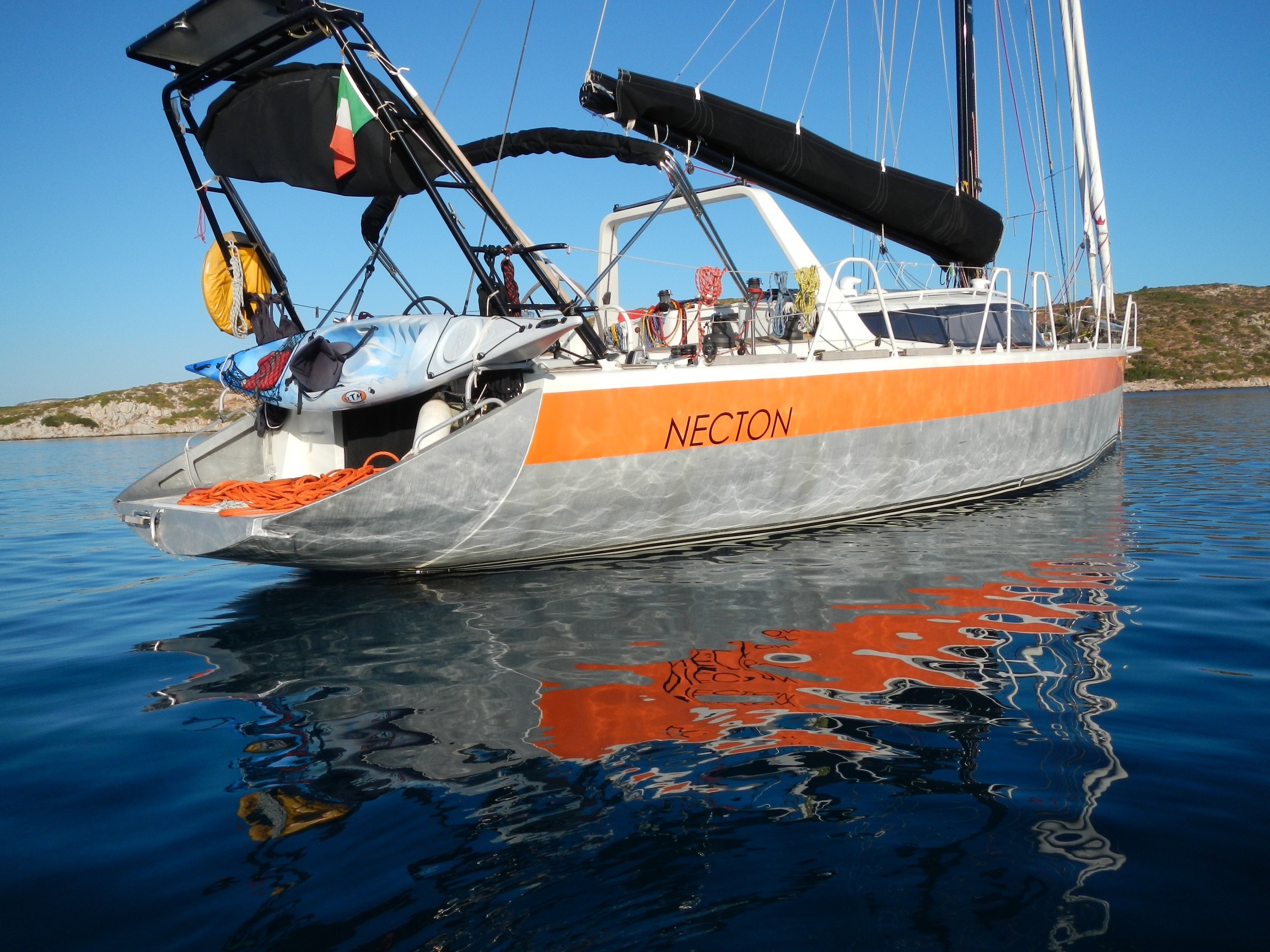 English Version First – Segue versione in Italiano
NECTON – all in the name
When born we are strongly attached to something. The mother's womb with the cozy family tranquility. In early youth we are bentos (defining in biology all marine species linked to the bottom that do not move) and our surfing in the ocean of life is limited and cautious. Everything is dark and threatening and adventure is felt dangerous and we find tranquility is in the certainty of the things that surround us.
By leave our first youth we start our wandering in the sea of life were we are transported by currents and tides that run through the history of mankind. Then we become plankton (defining in biology all marine species that migrate and move thanks to the wind and the currents) and our surfing in the ocean of life is random, inspired by the overwhelming and momentary passions that disrupt our lives. The adventure is sometimes irresponsible rush to unrealistic destinies.
The day will come for us to cross a line that stands along the arc of the horizon: The shadow line. Leaving our youth we have to cross it in order to make our adventure something big and less random.
When we cross the thin line of the shadow line we become necton (defining in biology all marine species that blend into the sea vastness on the basis of a conscious impulse, a precise determination of direction) and our surfing in the ocean of life becomes inspired by will and determination making adventure a path of our journey. Odds always plays their part in shuffling the cards of our life but necton is determined action, concrete desire, mature experience to the service of the horizons we have set. Our adventure is no longer a hypothesis, but an active process. This is NECTON.
NECTON – information about the boat
Necton is a newly designed cutter, built for offshore sailing that combines security, autonomy and comfort. This one-off boat is made of aluminum with three watertight bulkheads, a short draft fixed keel that incorporates centerboard and a rudder with skeg.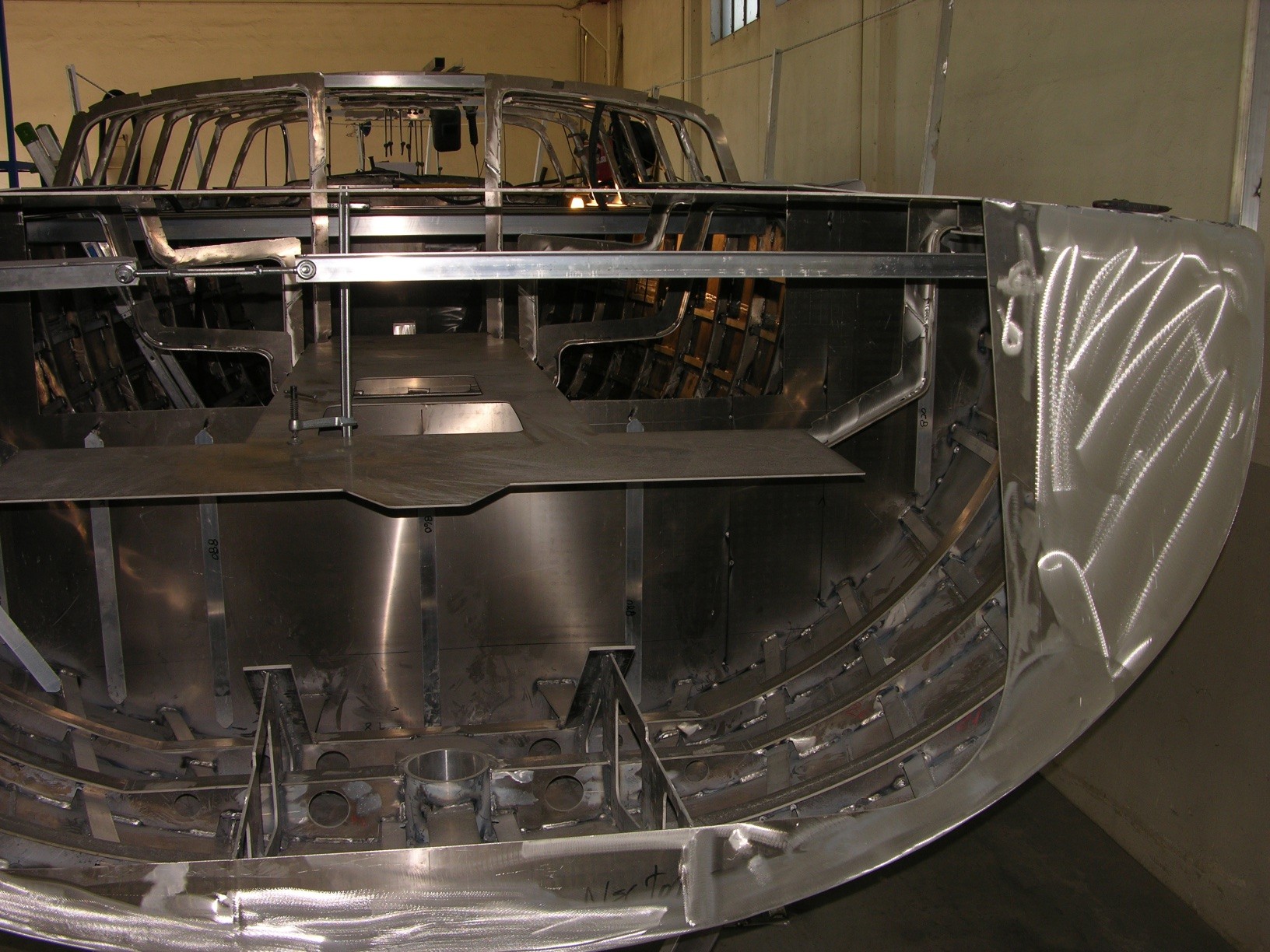 Detail of the construction of the boat
The concentration of weights amidships is one of the distinctive elements of this boat: anchor chain is collected in the saloon; engine and structural fuel and water tanks are placed amidships. These design features, together with the narrow beam, ensure to the boat a remarkable seaworthiness making navigation and sailing pleasant. To ensure visibility in all conditions from inside a scenic deck-house make the boat's deck.
With Necton a modern and bright design joins with the rigorous search of safety and reliability in navigation: essential qualities for a boat designed for high-ocean sailing at high latitudes, even in icy conditions.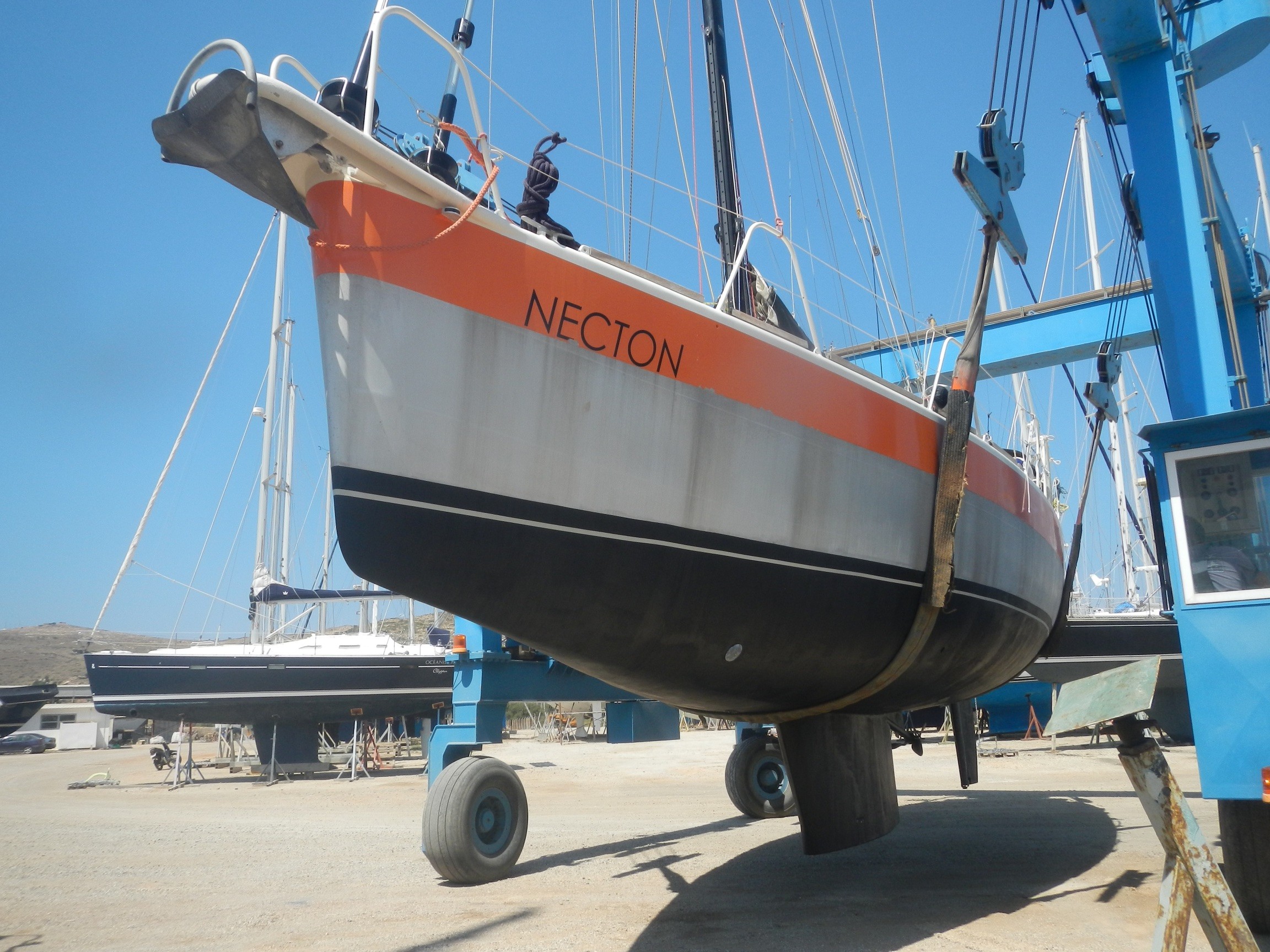 Shallow-draft fixed keel fixed to reach the most remote bays. The keel incorporates a centerboard which brings the draft to 3,5mt to improve stability and improving upwind efficiency.
The rudder with skeg, robust and reliable.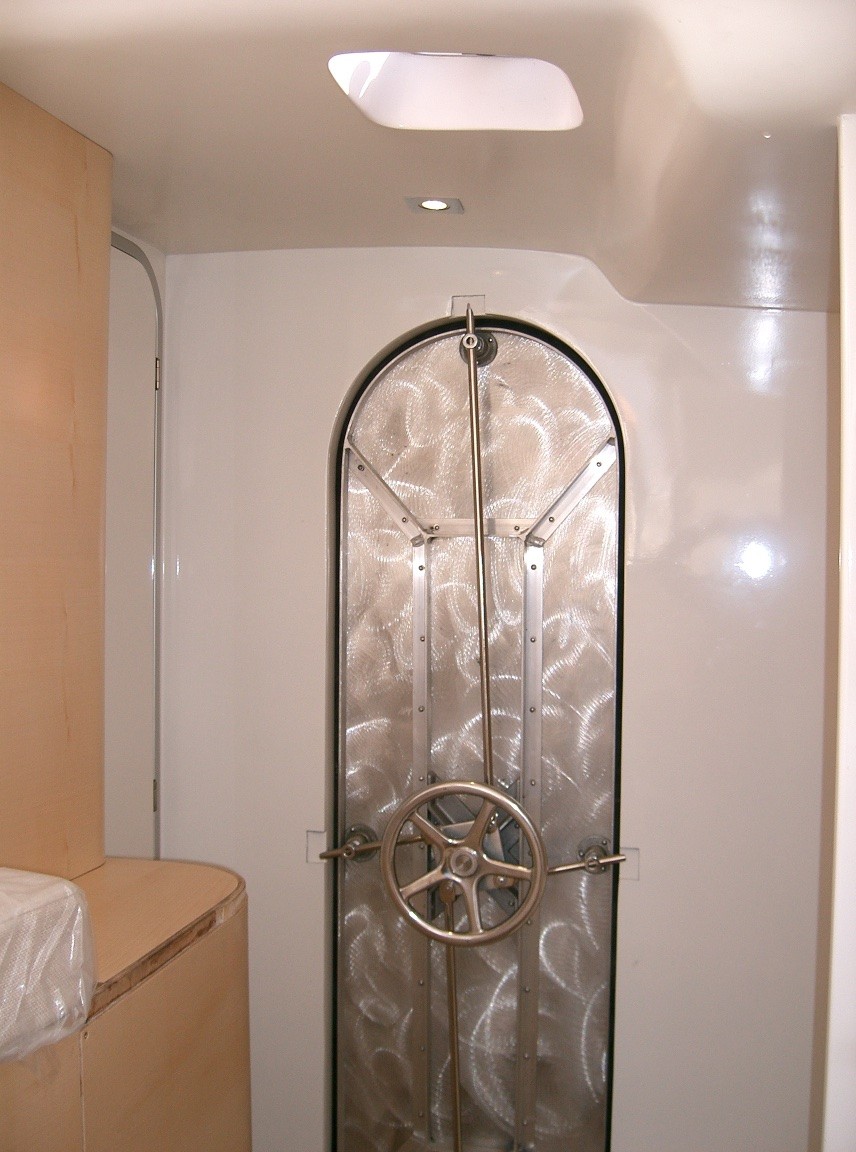 Detail of the watertight door that divides the forward cabin from the rest of the boat. Forward cabin and sail locker are two watertight compartments that are combined with other two aft watertight compartments: the swimming platform and the stern lockers.
The remarkable watertight compartmentalization of the boat is designed for sailing at high latitudes (in presence of ice) or in the unexplored areas where there are no reliable nautical charts.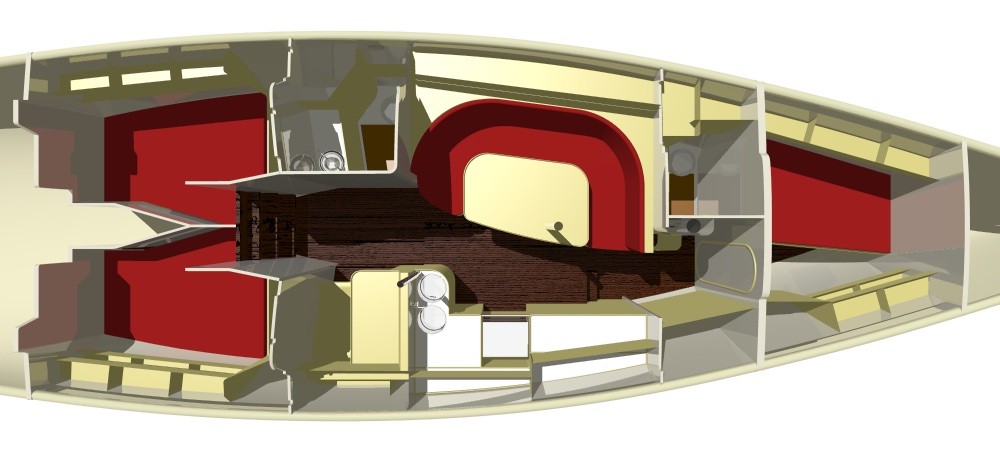 NECTON, interior. Two double cabins aft with shared bathroom. Generous chart table. Dinette and kitchen. Bathroom and forward cabin. Autonomy and comfort characterize this boat that can accommodate up to four guests in two double cabins with shared bathroom, while the owners have a cabin and a private bathroom in the bow.
The sail plan is versatile with a genoa and a self tacking jib permanently armed on furlers, whereas the mainsail is reefed from the cockpit, where all the lines are controlled.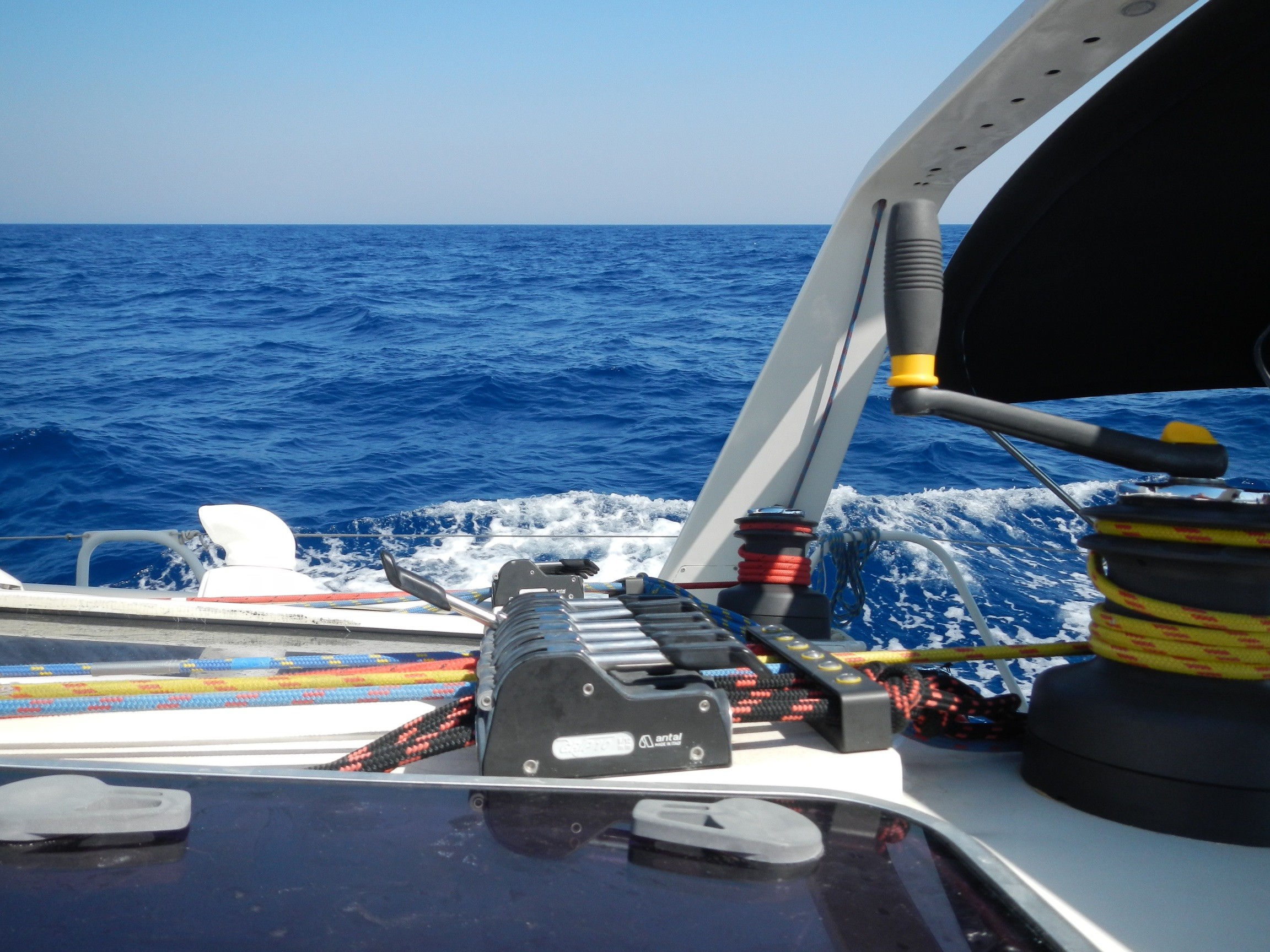 Detail of the stoppers on the deckhouse. All the lines of the boat are controlled from the cockpit.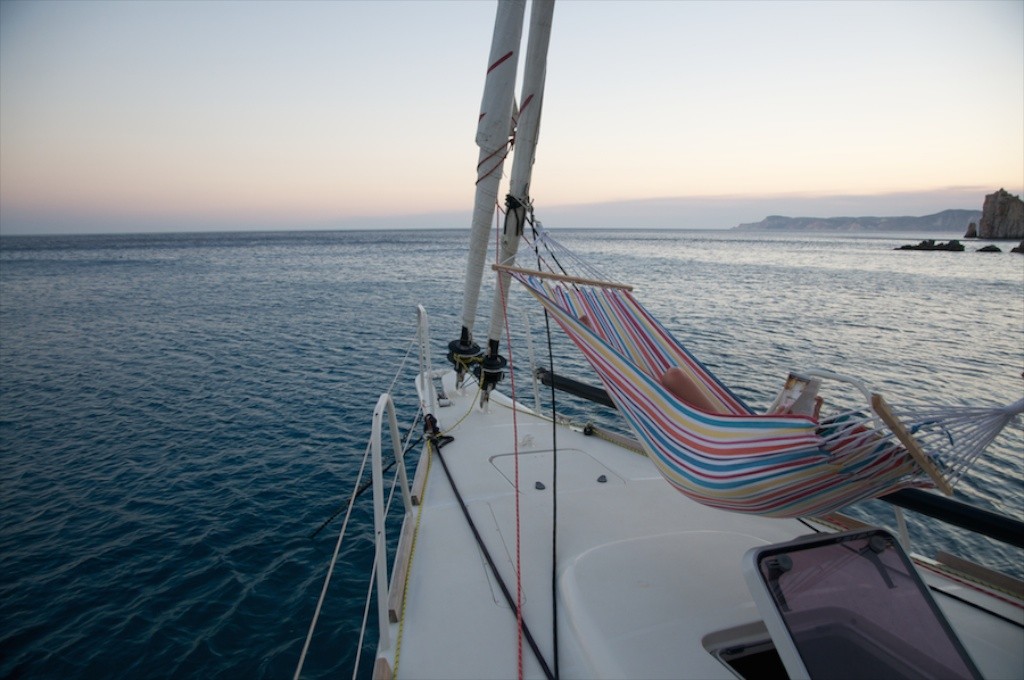 The bow is clear, to provide a convenient area for sunbathing. In addition to the Genoa the Jib is self-tacking, simplifying navigation with strong winds. A deck-house creates a bright environment. The anchor chain runs below deck to be collected under the dinette, contributing to the exceptional stability of the boat.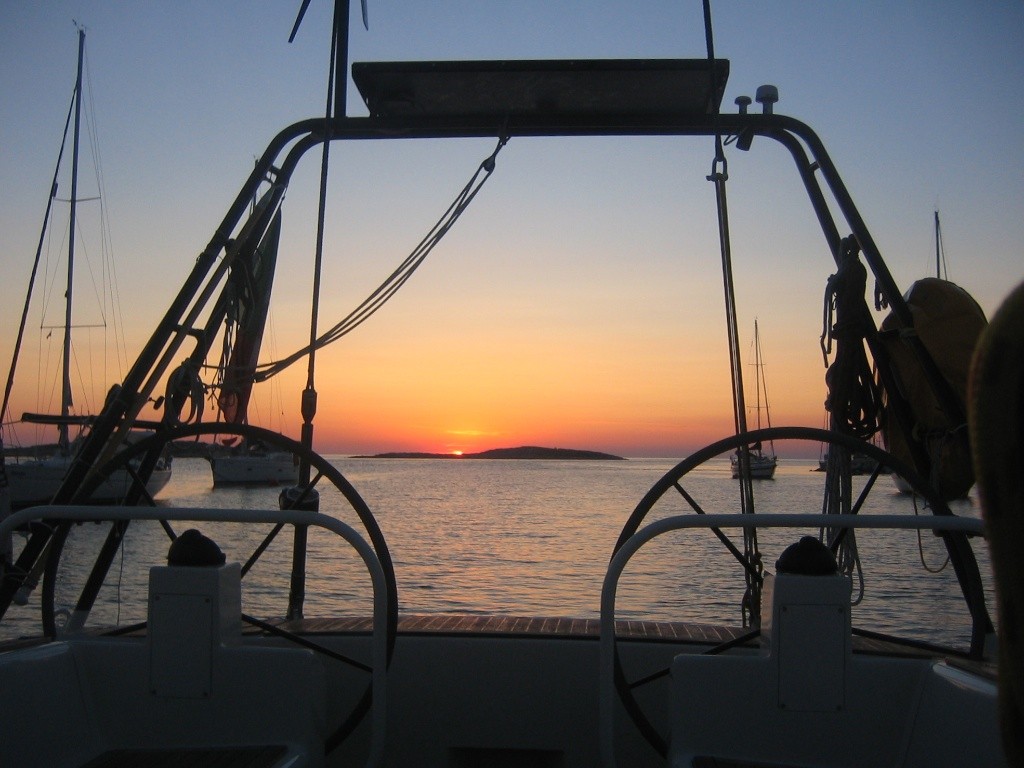 A double helm provides excellent visibility in navigation and helps to make the cockpit spacious and comfortable for the crew both at sea and at anchor.
The boat is equipped with fridge, freezer and 220V electric current distributed in the guest cabins. The water tanks (550Lt) and diesel (800Lt) guarantee a great range, allowing for long trips before the need of refiling arises.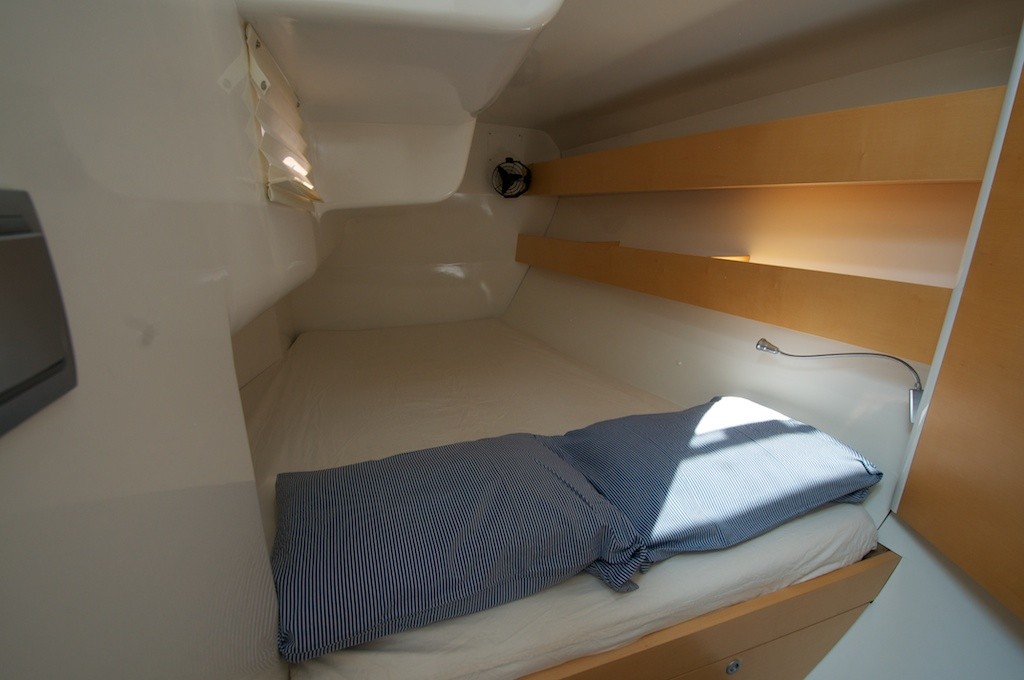 The two aft cabins are spacious, bright and comfortable with ample stowage areas.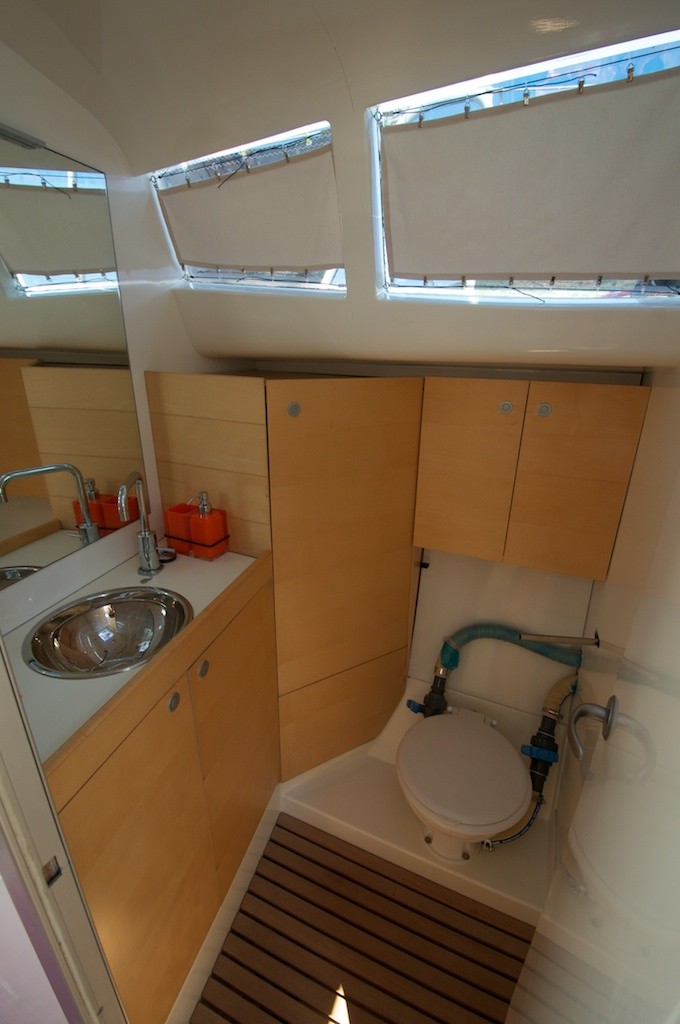 The aft head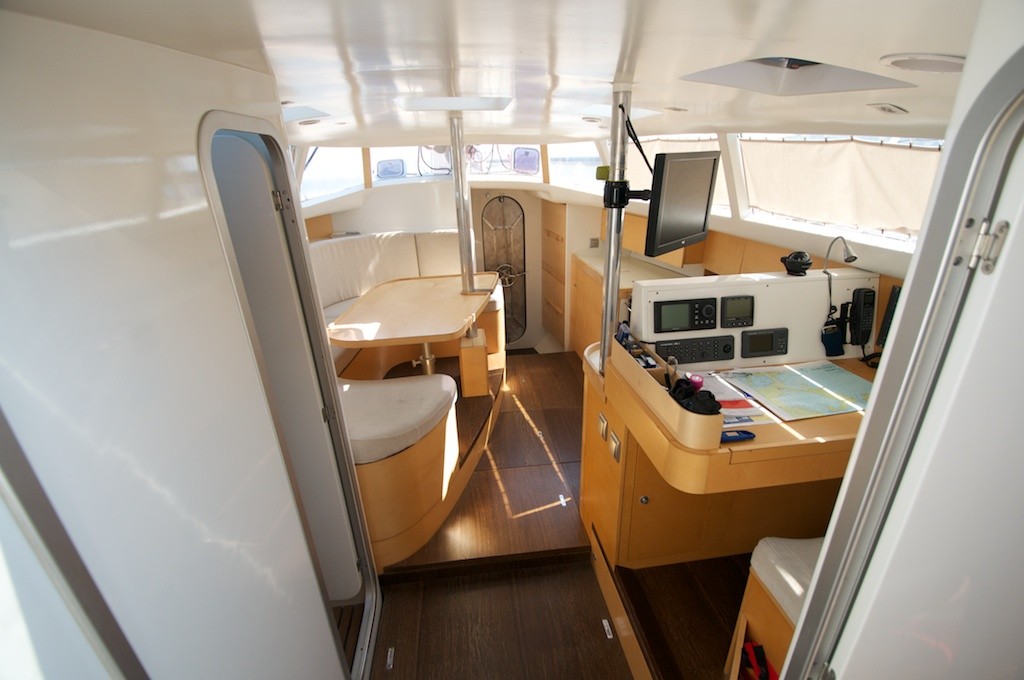 The chart table, from where you can drive the boat in bad weather and the bright dinette.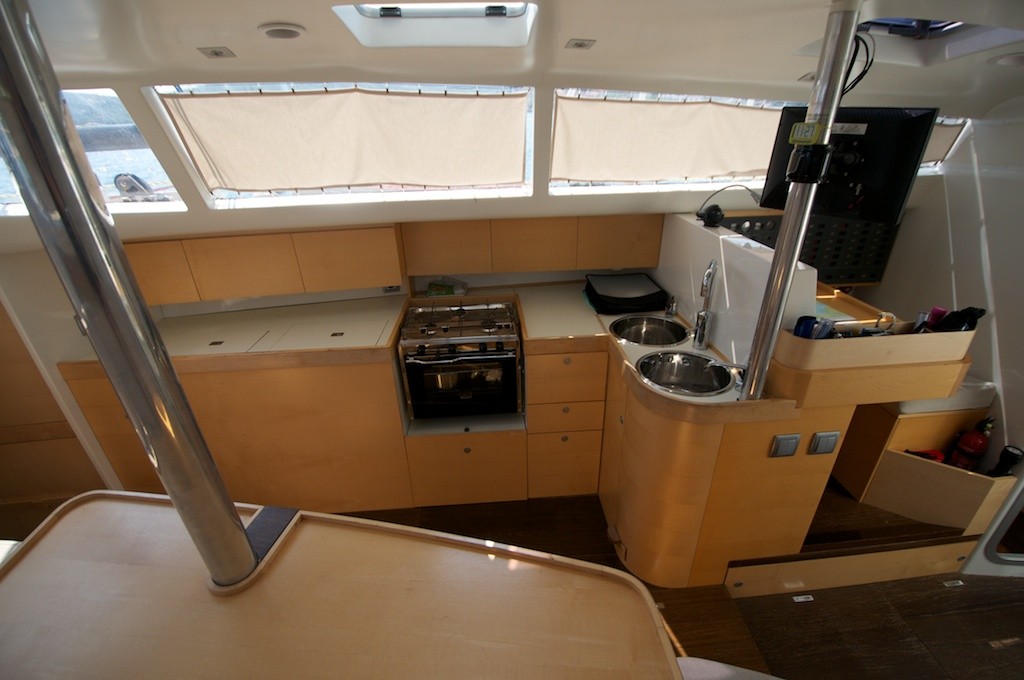 The kitchen with deep refrigerator and freezer.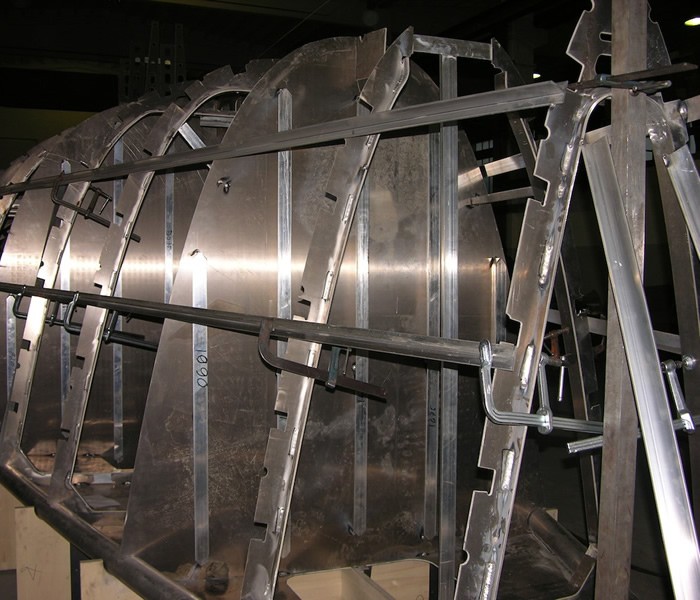 This is a video showing the boat building
NECTON – technical information
Project
EU category A: High Seas
This is a boat designed for extended voyages, in which the wind force may exceed 8 (Beaufort scale) and significant waves height greater than 4 meters. It is a largely self-sufficient vessel.
Hull and deck
Aluminium
Insulated with closed cell foam 10 cm
Main dimensions
Hull length: 13,60 mt
Width: 4,00 mt
Minimum draft: 1,60 mt
Maximum draft: 3,50 mt
Weight 13,6 Ton
Interior
Three cabins with double beds
Two bathrooms with shower
Large chart table
Bright dinette
Kitchen
Tools locker and work table
Fans in cabins and dinette
USB sockets for charging in cabins and dinette
Security
Eight people liferaft
Backup Garmin GPS (2)
Medical kit
Surgery kit
Electric bilge pump
Manual bilge pump
Watertight compartments number 4
Fire extinguishers
Carbon monoxide alarm system CO
Gas leak alarm system
Solenoid valve for gas cylinders remote control with automatic shut-off in the event of a gas leak
Seat belts
Life line
Rockets and emergency and safety equipment for navigation over 50 Miles
Plumbing and bathrooms
Outdoor shower with hot and cold water
Showers in the heads
Hot water in bathrooms, kitchen and showers
Watermaker
Kitchen
Three burners stove
Oven
Fridge
Freezer
Propane Gas 2 x 6 kg
Camping gas 2 x 3 Kg
Tanks
Water 550 Lt
Diesel 800 Lt
Daily fuel tank 90 Lt
Black water 114 Lt
Engine, propeller and steering
Diesel engine, 4-cylinder, 87 hp
Folding propeller with variable pitch (Autoprop)
Rudder with skeg, twin steering wheel
Sail pan
Four battens mainsail with free base, 55 m2 with 3 reefs
Genoa 53 m2
Self-tacking jib 27 m2
Storm jib 15 m2
120 m2 Gennaker
Deck plan
2 main winches
2 secondary winches
2 winch on the deckhouse
1 mast winch
Spinnaker pole
Rigging
Forestay 12 mm
Backstay 10 mm
Diagonal low and high (D1 and D3) 10 mm
Diagonal (D2) 8 mm
Vertical Low (V1) 12 mm
Vertical (V2) 10 mm
Anchor line
Rokna 40Kg main anchor, 100 m chain
Stern anchor Delta 20 kg, 30 m chain and 50 mt line
Bow electric anchor winch
Aft electric anchor winch
Lines 200 mt
Electrical system
Services batteries 575 Ah / 12V
Engine battery 115 Ah / 12V
Isolating transformer 110V / 220V
2Kw inverter
Wind generator
Solar Panel
Electronic
Chart plotter
Gps
Radar
Echo / log / wind
Autopilot
VHF GMDSS
AIS
WiFi
satellite phone Iridium
Other equipment
Bimini
Tender with rigid hull and 4 stroke engine
Barbecue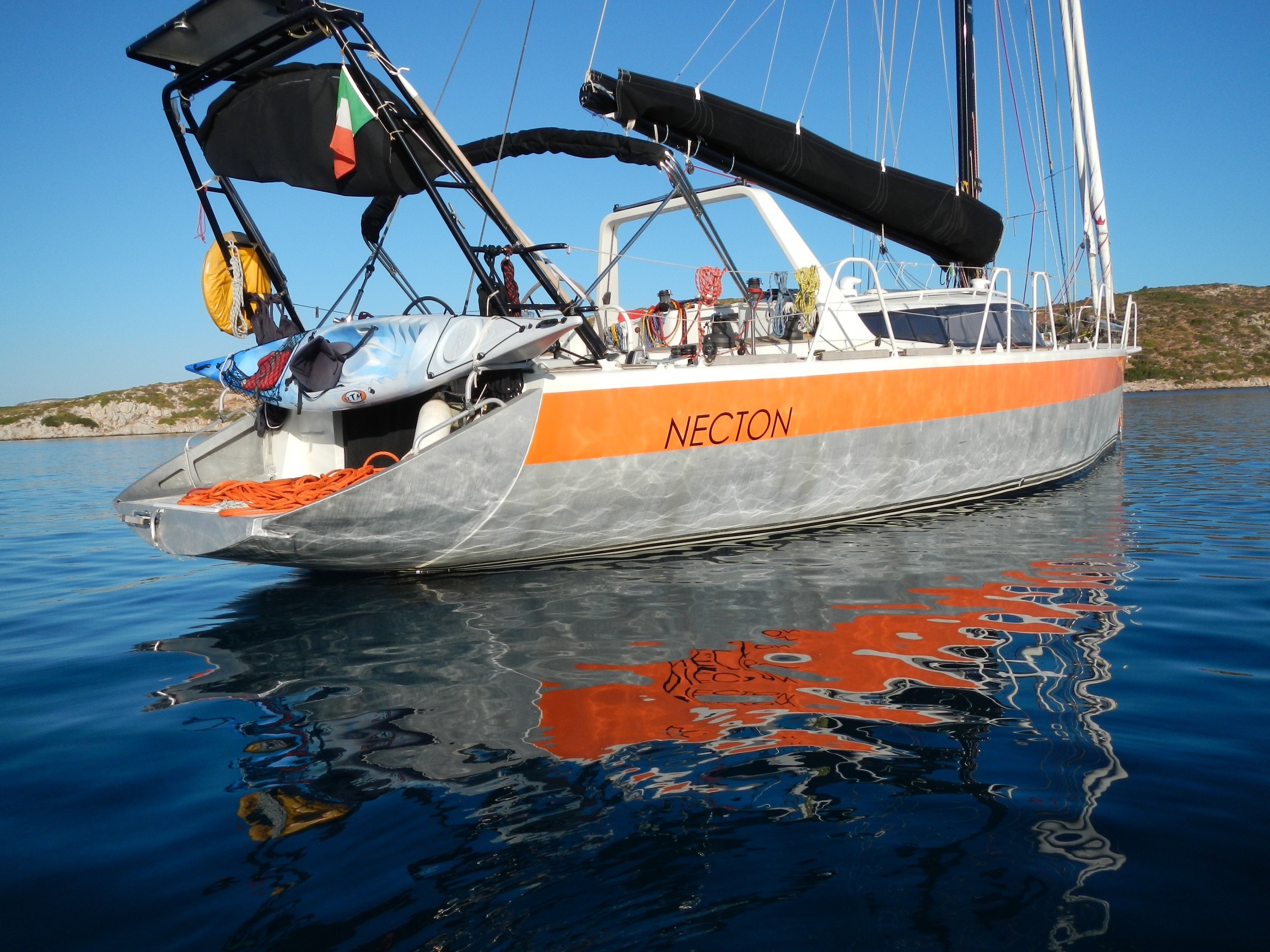 NECTON – tutto in un nome
Quando nasciamo siamo fortemente legati a qualcosa. Il ventre materno con l'accogliente tranquillità famigliare. Nella prima giovinezza siamo bentos (in biologia si definiscono così le specie marine legate al fondo e che non si spostano) e il nostro navigare nel mare della vita è limitato e guardingo. Tutto è oscuro e minaccioso, l'avventura un pericolo, la tranquillità è nelle certezze delle cose che ci circondano.
Quando abbandoniamo la prima giovinezza inizia il nostro vagare nel mare della vita, e veniamo trasportati dalle correnti e dalle maree che attraversano la storia degli uomini. Allora siamo plancton (in biologia si definiscono così le specie marine che si spostano mosse dalle correnti e dal vento) e il nostro navigare nel mare della vita è casuale, ispirato alle passioni travolgenti e momentanee che sconvolgono la nostra vita. L'avventura è a volte l'irresponsabile corsa verso destini improponibili.
Si pone a tutti, un giorno, di attraversare una linea che si staglia lungo l'arco dell'orizzonte: la Linea d'Ombra. Abbandonata la giovinezza ci troviamo tutti a doverla superare per fare della nostra avventura qualcosa di grande e meno casuale.
Quando attraversiamo il sottile confine della linea d'ombra diventiamo necton (in biologia si definiscono così le specie marine che si sposano nelle vastità marine sulla base di un impulso cosciente, una precisa volontà di direzione) e il nostro navigare nel mare della vita è ispirato alla volontà e alla determinazione che rendono l'avventura un percorso compiuto. Il caso gioca sempre la sua parte nel mescolare le carte ma necton è azione determinata, volontà concreta, matura esperienza al servizio degli orizzonti che ci prefiggiamo. La nostra avventura non è più un'ipotesi, ma un processo attivo. Questa è NECTON.
NECTON – informazioni sulla barca
Necton è un cutter di recente progettazione, costruito per la navigazione d'altura che combina sicurezza, autonomia e comfort. Questo one-off realizzato in alluminio è dotato di tre paratie stagne, ha una chiglia fissa a pescaggio ridotto che ingloba una deriva mobile e un timone con skeg.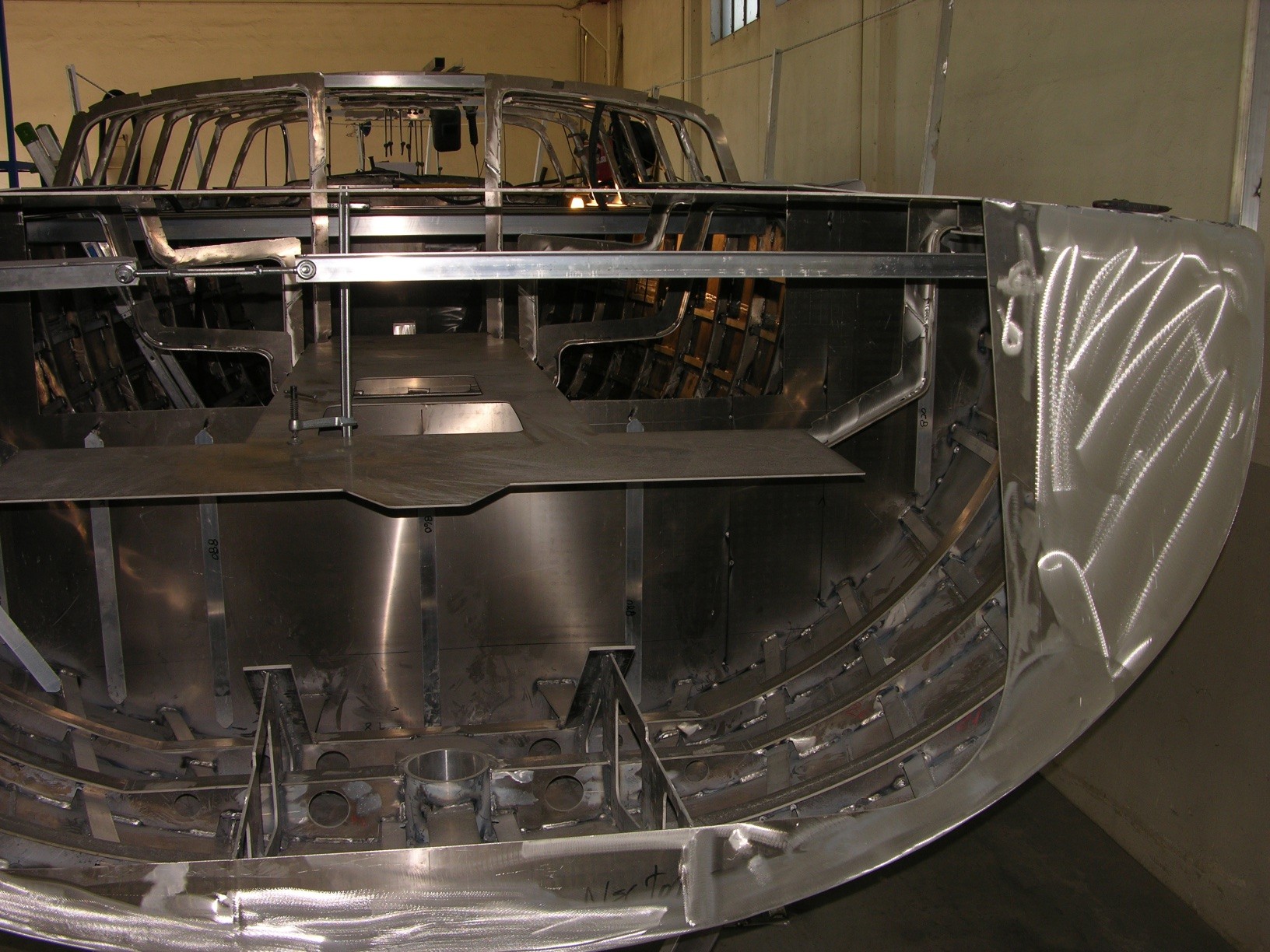 Particolare della barca in costruzione
La concentrazione dei pesi a centro barca è uno degli elementi distintivi di questo progetto: catena dell'ancora raccolta in dinette; motore e serbatoi strutturali del carburante e dell'acqua posizionati a centro barca. Questi accorgimenti costruttivi, unitamente al baglio contenuto, garantiscono alla barca una straordinaria tenuta al mare rendendo la navigazione piacevole e comoda. Per garantire visibilità dall'interno in tutte le condizioni una deck-house panoramica caratterizza la tuga della barca.
In Necton un design moderno e luminoso si unisce così alla rigorosa ricerca della sicurezza e dell'affidabilità nella navigazione: qualità indispensabili per una barca pensata per la navigazione oceanica e d'alto mare alle alte latitudini, anche in presenza di ghiaccio.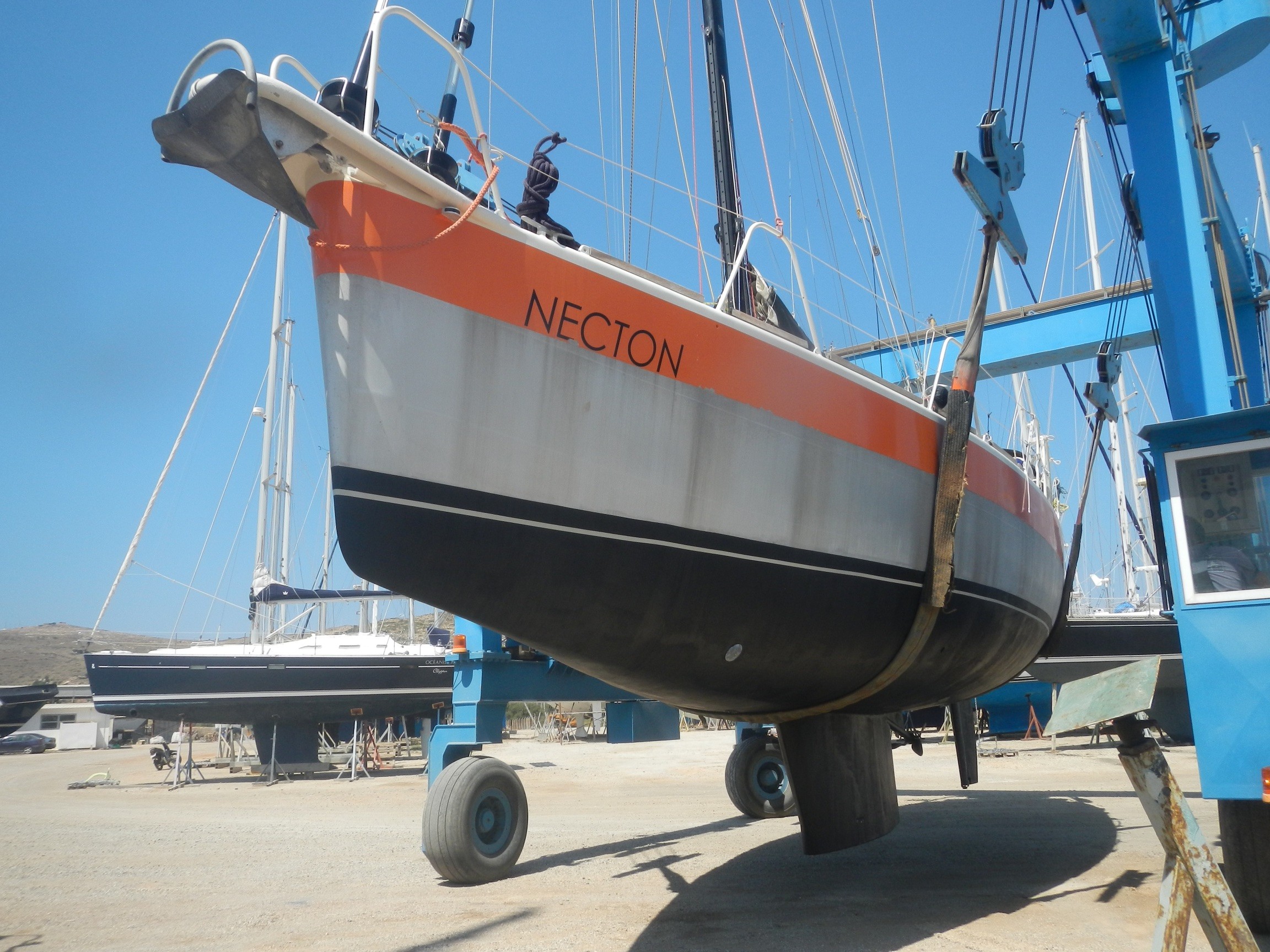 Chiglia fissa a basso pescaggio per raggiungere le baie più remote. La chiglia ingloba una deriva mobile che porta il pescaggio a 3,5mt per migliorare stabilità e efficienza nell'andatura di bolina.
Il timone con skeg, robusto e affidabile.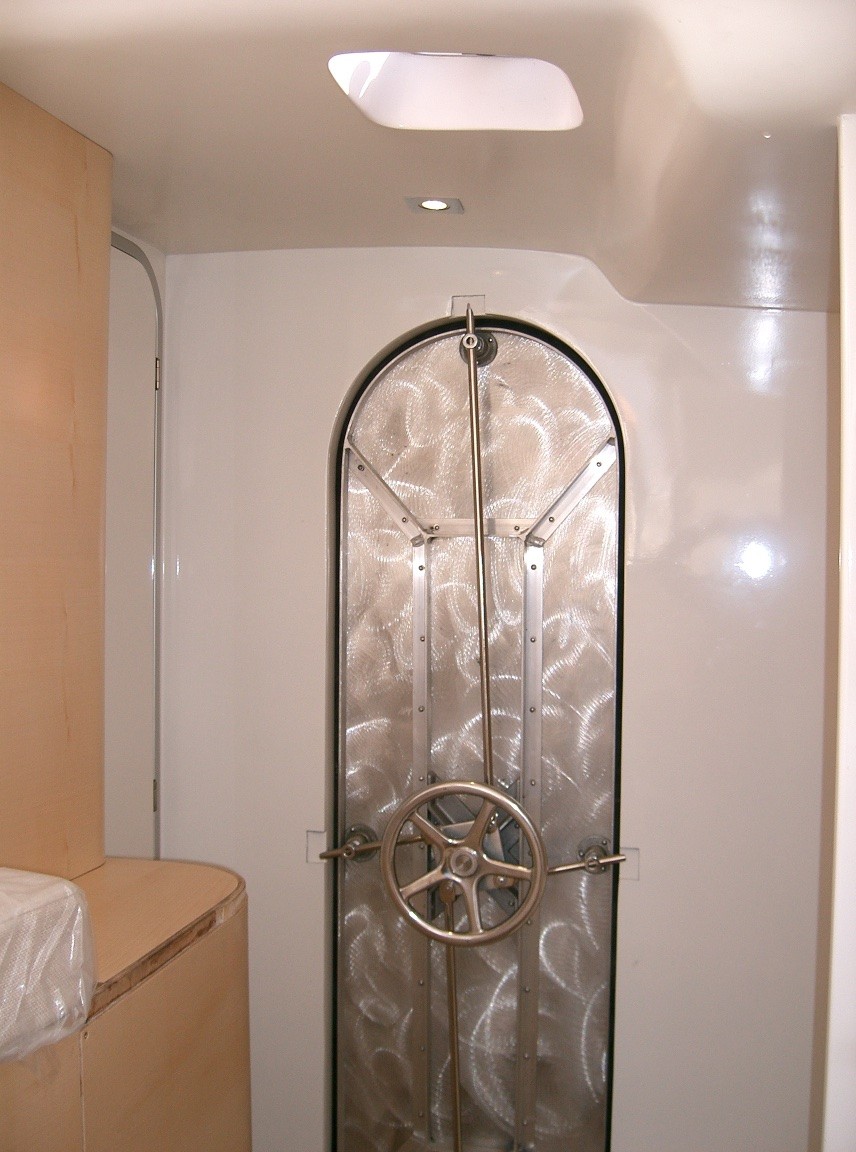 Particolare della porta stagna che divide la cabina di prua dal resto della barca. Cabina di prua e cala vele sono due compartimenti stagni che si uniscono ad altre due zone stagne a poppa: la plancetta e i gavoni poppieri.
La notevole compartimentazione stagna della barca è stata pensata per le navigazioni alle alte latitudini (presenza di ghiaccio) o nelle zone inesplorate dove non vi sono carte nautiche affidabili.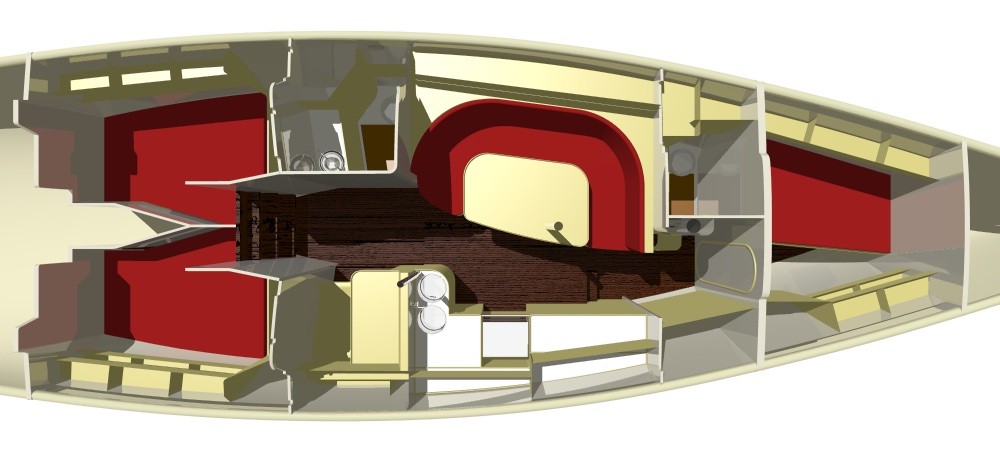 NECTON, interni. Due cabine doppie a poppa con bagno condiviso. Ampio carteggio. Dinette e cucina. Bagno e cabina di prua. Autonomia e comfort contraddistinguono questa barca capace di ospitare fino a quattro ospiti nelle due cabine doppie con bagno condiviso, mentre gli armatori dispongono di una cabina e di un bagno riservato a prua.
Il piano velico è versatile con un genoa e un fiocco autovirante permanentemente armati su avvolgitori, mentre la presa delle tre mani dei terzaroli della randa avviene dal pozzetto, dove tutte le manovre sono rinviate.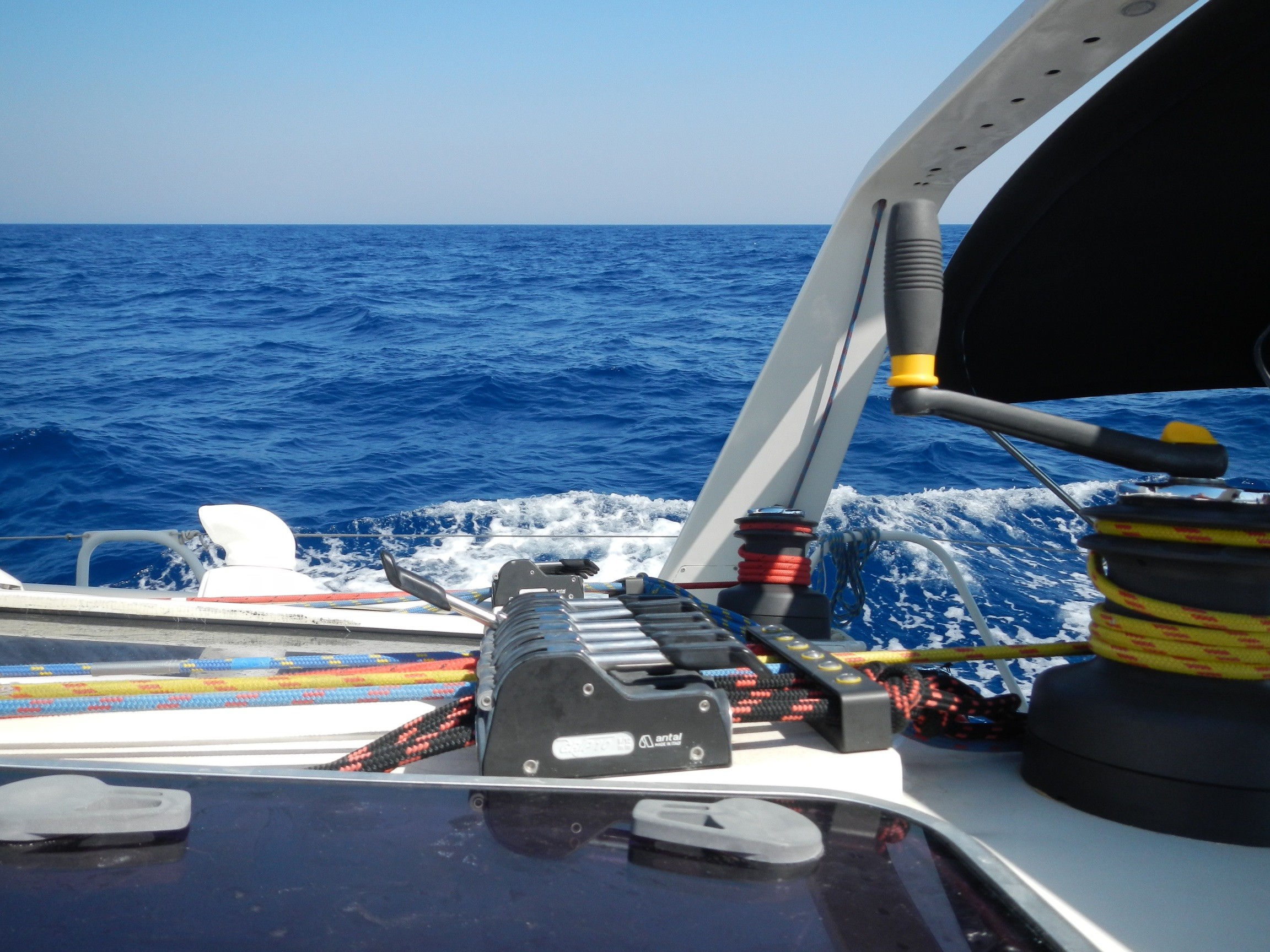 Particolare degli stopper della tuga. Tutte le manovre della barca sono comodamente rinviate in pozzetto.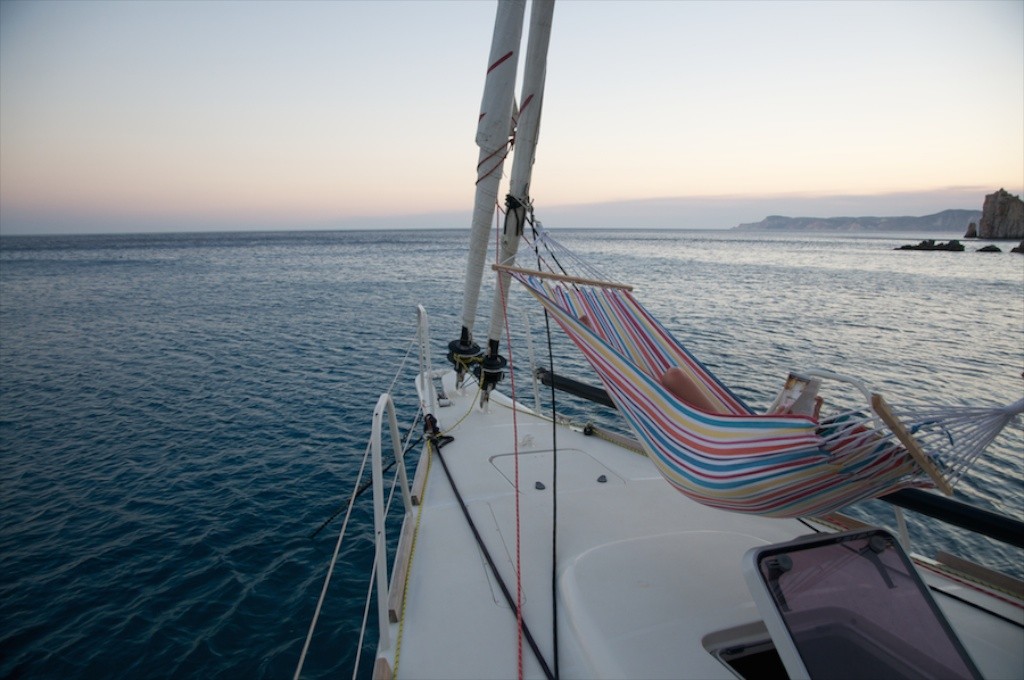 La prua è sgombra di manovre, per offrire una comoda zona prendi sole. Oltre al Genoa il Fiocco dispone di rotaia autovirante, semplificando la navigazione con vento. Una deck-house panoramica crea un ambiente luminoso sottocoperta. La catena dell'ancora scorre sottocoperta per essere raccolta sotto la dinette, contribuendo alle eccezionali qualità di stabilità della barca.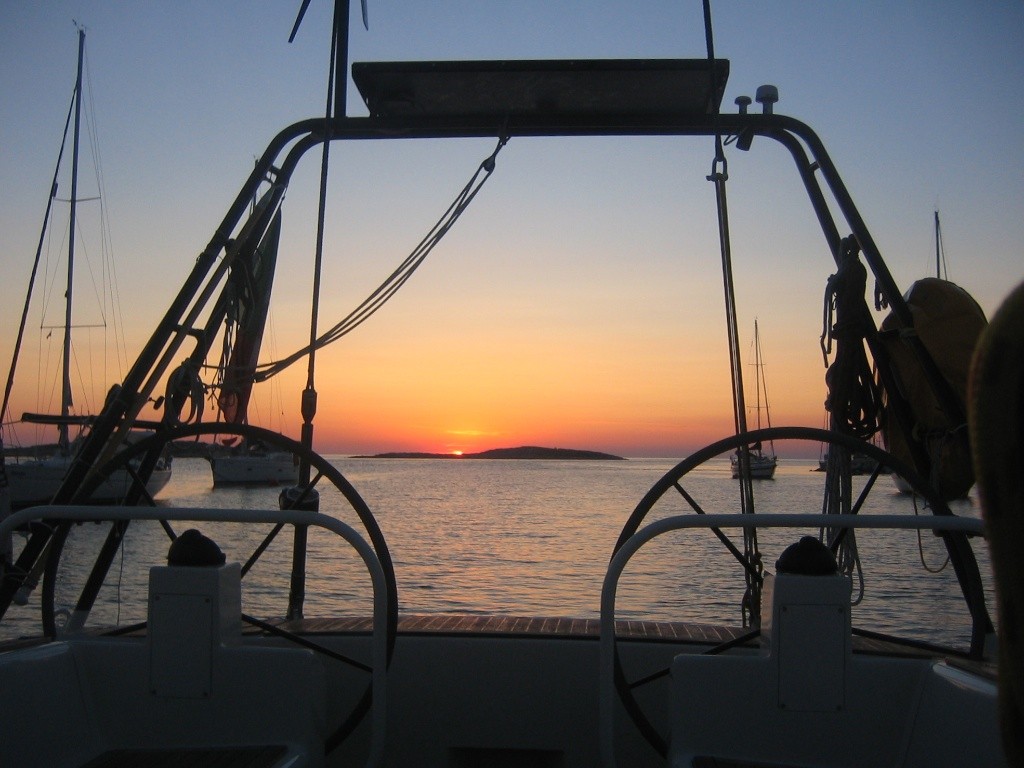 La doppia timoneria offre la massima visibilità in navigazione e contribuisce a rendere il pozzetto spazioso e comodo per l'equipaggio sia in navigazione che in rada.
La barca è dotata di frigorifero, freezer e corrente elettrica a 220V distribuita nelle cabine degli ospiti. I serbatoi dell'acqua (550Lt) e del gasolio (800Lt) garantiscono grande autonomia di viaggio, permettendo lunghe navigazioni, o di spostarsi di rada in rada, senza necessità di continui rifornimenti.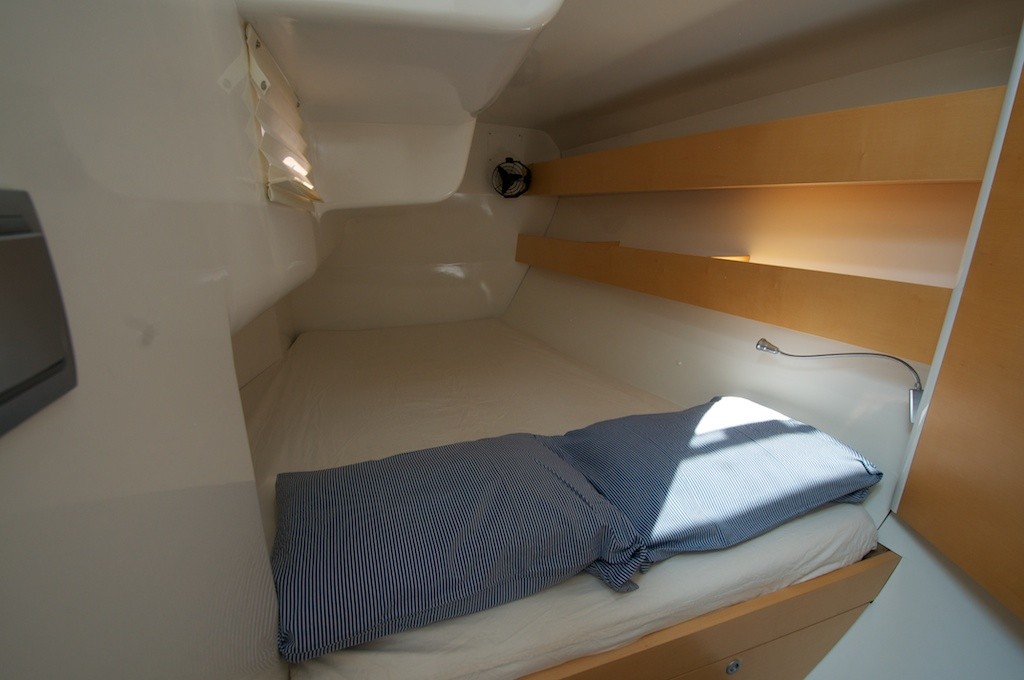 Le due cabine di poppa sono spaziose, luminose e comode con ampie zone di stivaggio.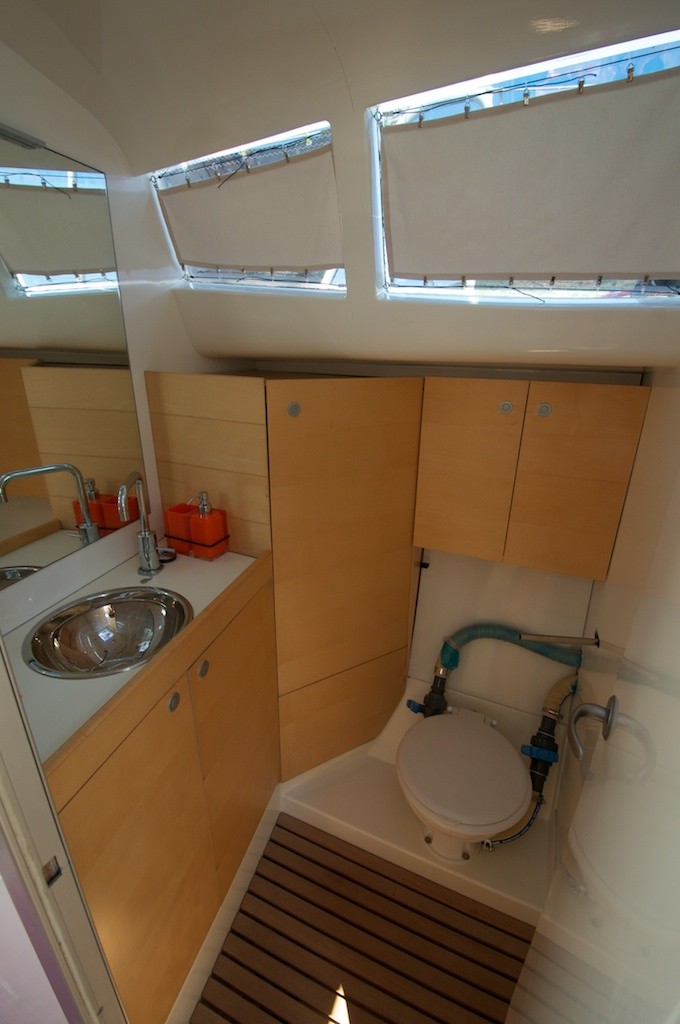 Il bagno di poppa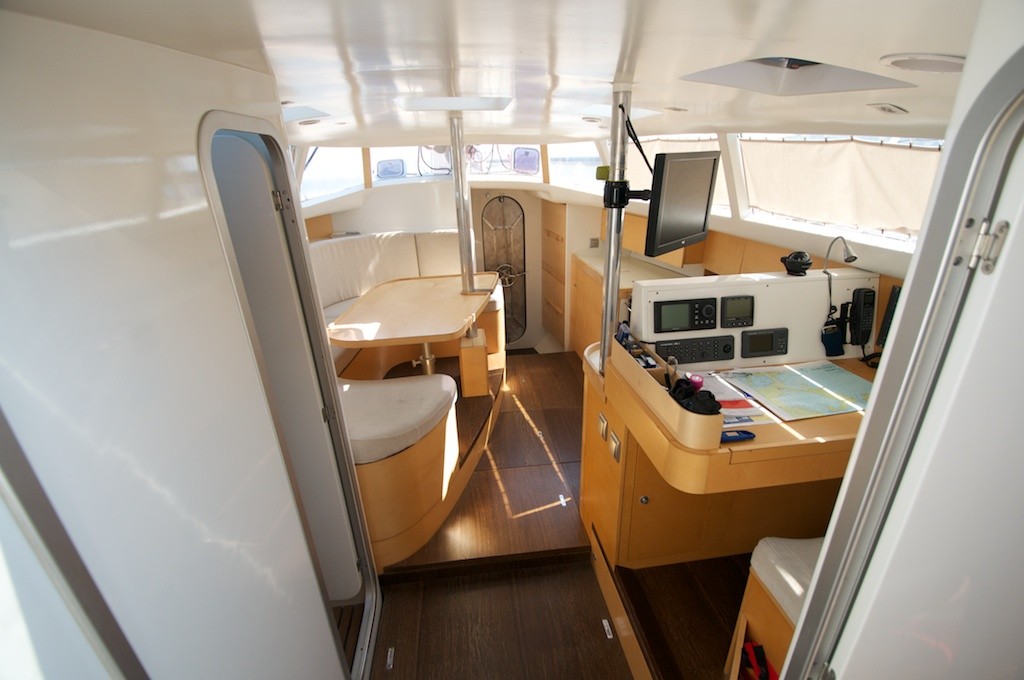 Il carteggio, da dove si può condurre l'imbarcazione con brutto tempo e la dinette luminosa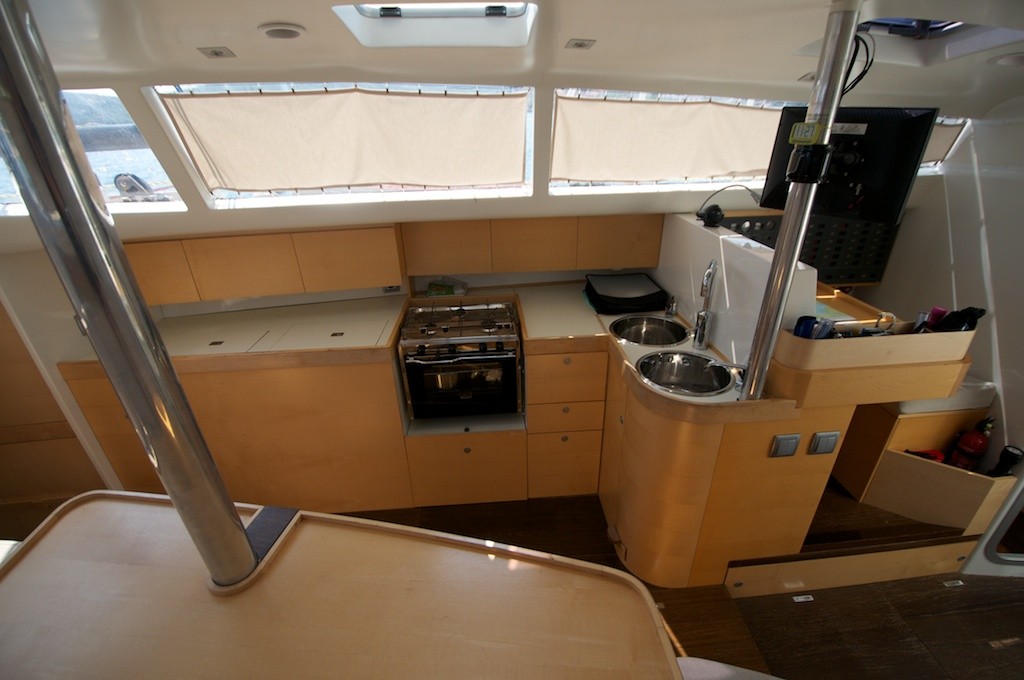 La cucina con il frigorifero e il freezer a pozzetto.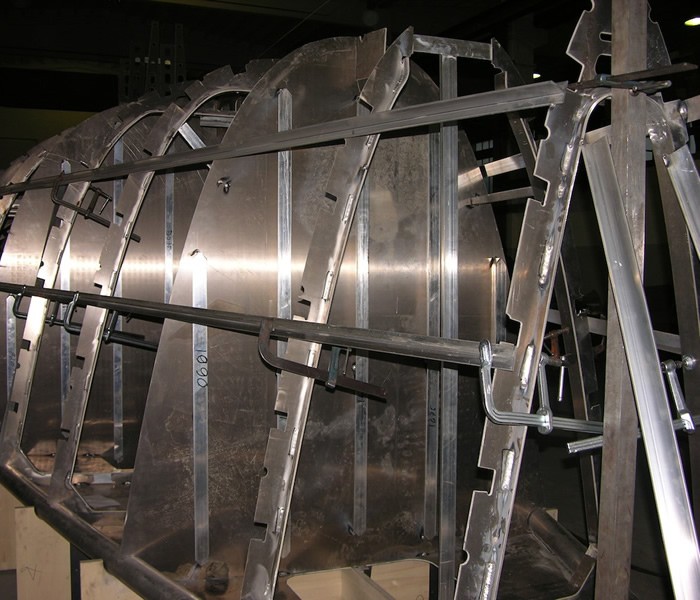 Questo è un video relativo alla costruzione della barca
NECTON – informazioni tecniche
Progettazione
Categoria A: alto mare
Si tratta di un'imbarcazione progettata per i viaggi di lungo corso, in cui la forza del vento può essere superiore ad 8 (Scala Beaufort) e l'altezza significative delle onde superiore a 4 metri. Si tratta di un'imbarcazione ampiamente autosufficiente.
Scafo e coperta
Alluminio
Coibentazione con materiale a cellule chiuse 10 cm
Dimensioni principali
Lunghezza dello scafo: 13,60 mt
Larghezza: 4,00 mt
Immersione minima: 1,60 mt
Immersione massima: 3,50 mt
Peso 13,6 Ton
Interni
Tre cabine con letti matrimoniali
Due bagni con doccia
Ampio carteggio
Dinette luminosa
Cucina
Armadio attrezzi e tavolo lavori
Ventilatori nelle cabine e in dinette
Prese USB per ricarica nelle cabine e in dinette
Prese 220V nelle cabine e in dinette
Sicurezza
Zattera salvataggio 8 persone
GPS backup Garmin (2)
Kit medico
Kit chirurgia
Pompa di sentina elettrica
Pompa di sentina manuale
Compartimenti stagni numero 4
Estintori
Sistema d'allarme monossido di carbonio CO
Sistema d'allarme fughe gas
Valvola solenoide per il controllo remoto chiusura bombole gas con chiusura automatica bombole in caso di fuga gas
Cinture di sicurezza
Life line
Razzi e equipaggiamento emergenza e sicurezza navigazione oltre 50 Miglia
Impianto idraulico e bagni
Doccia esterna con acqua calda e fredda
Bagni con doccia
Acqua calda disponibile nei due bagni, in cucina e nelle docce
Dissalatore
Cucina
Cucina a 3 fuochi
Forno
Frigorifero
Freezer
Gas Propano 2 x 6 Kg
Camping gas 2 x 3 Kg
Serbatoi
Acqua 550 Lt
Gasolio 800 Lt
Serbatoio gasolio giornaliero 90 Lt
Acque nere 114 Lt
Motore, elica e timoneria
Motore diesel, 4 cilindri, 87 CV
Elica abbattibile a passo variabile (Autoprop)
Timone con skeg, doppia timoneria a ruota
Piano velico
Randa steccata (4 stecche e base libera) 55 m2 con 3 mani di terzaroli
Genoa 53 m2
Fiocco autovirante 27 m2
Tormentina 15 m2
Gennaker 120 m2
Piano di coperta
2 winch primari
2 winch secondari
2 winch tuga
1 winch albero
Tangone
Sartiame
Strallo Genoa 12 mm
Paterazzo 10 mm
Diagonale bassa e alta (D1 e D3) 10 mm
Diagonale media (D2) 8 mm
Verticale bassa (V1) 12 mm
Verticale media (V2) 10 mm
Linea d'ancoraggio
Ancora principale Rokna 40Kg, 100 mt catena
Ancora di poppa Delta 20 Kg, 30 mt catena e 50 mt cima
Verricello salpa ancora prua elettrico
Verricello salpa ancora poppa elettrico
Cime di tonneggio 200 mt
Impianto elettrico
Batterie servizi 575 Ah/12V
Batteria motore 115 Ah/12V
Trasformatore d'isolamento 110V/220V
Caricabatterie 220V
Inverter 2Kw
Generatore eolico
Pannello solare
Elettronica
Gps cartografico
Gps
Radar
Echo / log / vento
Autopilota
VHF GMDSS
AIS
WiFi
Telefono satellitare Iridium
Altre dotazioni
Bimini coprisole esterno
Tender carena rigida e motore 4 tempi
Barbeque